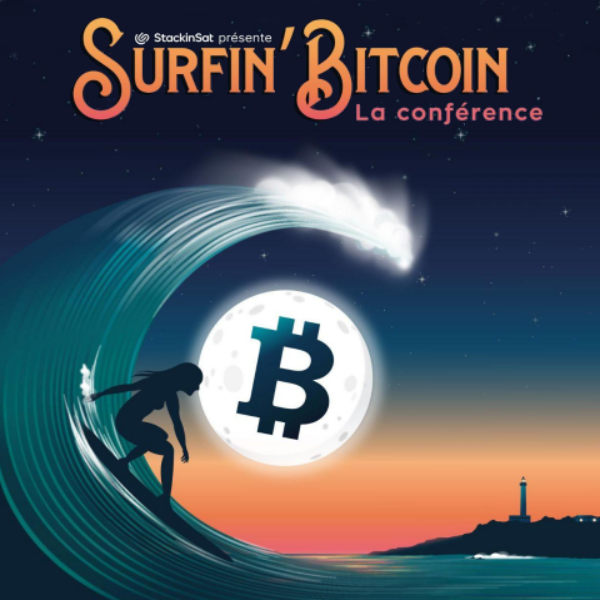 La troisième conférence Surfin'Bitcoin, centrée sur la démocratisation de Bitcoin et son écosystème, aura lieu les 25, 26 et 27 août au Casino de Biarritz. StackinSat, qui organise l'événement, a publié aujourd'hui une liste de 92 conférenciers. D'autres personnalités viendront compléter cette liste.
« Surfin'Bitcoin aura le privilège d'accueillir des personnalités francophones et internationales du Bitcoin mais aussi des économistes et des acteurs de la finance traditionnelle, plusieurs développeurs Bitcoin Core et surtout l'un des deux créateurs du Lightning Network, Thaddeus Dryja. Les Conferences Days, vendredi 26 et samedi 27 août, auront un thème spécifique par demi-journée sur deux salles plénières en simultanées, une salle généraliste (en français) et une salle experte (principalement en anglais) ainsi que deux salles de workshops pour approfondir certains sujets avec davantage d'interaction avec les intervenants. Le programme définitif des Conference Days sera publié le 13 Juin 2022, date à laquelle les prix des billets deviendront standard. »
Liste des intervenants internationaux (par ordre alphabétique inversé)
Thaddeus Dryja, Creator, Lightning Network
Tone Vays, Youtuber & trader
Roy Sheinfled, CEO, Breez Wallet
Rene Pickhardt, Bitcoin Developer (TBC)
Pascal Gauthier, CEO, Ledger
Pavle Dordevic, Pavlenex, BTC Pay
Prince Filip de Serbie
Ouriel Ohayon, CEO, ZenGo
Olga Ukolova, Coordinator, LNP/BP Stands Association
Nicolas Dorier, Creator, BTC Pay Server
Nicolas Burtey, CEO, Galoy
Nicholas Gregory, Mercury Wallet
Kareem Saddek, KPMG Canada
John Carvalho, CEO Synonym
Jarol Rodriguez, Bitcoin Core Dev
Jaran Mellerud, Analyst, Arcane Research
Jaime Leverton, CEO, Hut 8 Mining
Gabriel Shipton, advocate for hir brother Julian Assange
Gloria Zhao, Bitcoin Core De
Gloire Wanzavalere, CEO, Kiveclair
Fodé Diop, CEO, Bitcoin Developper Academy
Ernesto Hernández Otero, Consultant IT
David Saint-Onge, Educateur Bitcoin
Dan Held, Head of Marketing, Kraken (TBC)
Carol Usecripto, Youtuber (Brésil)
Conor Okus, Product Manager, Spiral BTC
Christian Decker, Researcher Blockstream
Christophe De Beukelaer, Député Belge
Benjamin Tyler (aka Ben BTC Session), Youtuber
Ben Arc, Developer Bitcoin
Amb Ntimba, Consultant Stratégique Centrafrique
Adam Jonas, Head of Special Projects, Chaincode Labs
Alexandre Chessé, Head of Sales EMEA, Fireblocks
Alexis Sellier, CEO, Radicle
Antoine Poinsot, Bitcoin Core Dev
Liste des intervenants français (par ordre alphabétique inversé)
Yves Choueifaty, CEO, Tobam
Yorick de Mombynes, Haut Fonctionnaire, Cours de comptes
William O'rorke, Avocat, ORWL
Thierry Chevrier, Head of Product, Pixelmatics
Theo Mogenet, CEO, L'institut du Bitcoin
Stephanie Cabossorias, Head of compliance, Binance France
Sebastien Gouspillou, CEO, BBGS
Romain Rouphael, CEO, LN Market
Rogzy, Youtubeur & CEO Découvre Bitcoin
Richard Détente, CEO Grand Angle
Richard Chbeir, Mathematician & Head of OpenCEMS
Ricardo Perez Marco, Mathematician, CNRS
Rémi Forte, Director, Le Mystère Satoshi
Raphaël Rossello, Managing Partner, Invest Securities
Pierre Morizot, CEO, Waltio
Pierre Person, Ancien député de Paris
Philippe Herlin, Économiste
Nathalie Janson, Economiste
Nicolas Debock, Managing Director, Eurazeo
Nicolas Chéron, Zonebourse, Analyste marché
Nicolas Cantu, Entrepreneur Bitcoin
Monsieur TK, Youtuber
Michel Khazzaka, CEO, Valuechain
Michael Canu, CEO, Ternoa
Matthieu Hesloin, CDO, BPI France
Marc Zeller, AAVE, Strategist
Lionel Jeannerat – Ludom, Editor, PV Edition
Laurent Salat, Creator, OXT
Kevin Loaec, CEO, Revault
Julien Guitton, CEO, Condensat
Julien Bouteloup, CEO, StakeDAO
Jonathan Herscovici, CEO, StackinSat
Jean-Paul Delahaye, Mathematician, Université Lille 1
Jean-Christophe Busnel, Product Manager, StackinSat
Hasheur (Owen Simonin), Youtuber & CEO Just Mining
Gilles Cadignan, CEO, Woleet
Frédéric Farah, Economiste
Ferghane Azihari, Economiste
Faustine Fleuret, CEO, ADAN
Fanis Michalakis, Head of R&D, LN Market
Emilien Dutang (aka Dark emi), Trader
Deborah Asseraf, DG Trésor (TBC)
David Cayla, Économiste
Cyril Bertrand, Managing Partner, Xange
Clara Zerbib, Avocat, ORWL
Claire Balva, Head of Blockchain, Blockchain Partner
Charles Guillemet, CTO Ledger
Charles Gaves, CEO Gavekal
Charles Sannat, L'Eco du Grenier
Bastien Teinturier, Lead Dev, ACINQ
Bartosz Jakubowski, Principal, Alven Capital
Andre Legendre, CEO, Kalima
Alexandre Stachtchenko, Head of Block Chain, KPMG France
Alexandre Lourimi, Avocat, ORWL
Axel Orgogozo, CTO, QuantsUnited
Adli Takkal Bataille, CEO Cercle du Coin
Abdelhamid Bakhta, Ethereum Dev
Les tables rondes seront modérées par six journalistes spécialisés : Charlie Perreau (Les Echos), Grégory Raymond et Raphaël Bloch (The Big Whale), Valentin Demé (Cryptoast), Benoit Huguet (Journal Du Coin) et Daniel Prince (Blogueur indépendant).