StartupToken Europe Tour – Paris
3 mai 2018 de 18 h 45 min

à

20 h 30 min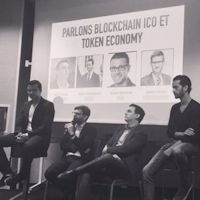 « Fresh off the StartupToken Asia Tour, our startups will be heading to Europe in May to begin the European leg of the roadshow series!
With Geneva on the 1st of May, Paris on the 3rd, Berlin on the 7th, London on the 8th and Barcelona on the 10th.
Amazing projects will present you their disruptive solutions!
Blockchain is the most significant new technology that many are still trying to wrap their heads around.
The World Economic Forum estimates that by 2027, 10% of the global GDP will be stored on Blockchain technology.
Startups are using Blockchain's rapidly evolving technology to fundamentally change entire business models, operations, payments systems, data storage, as business ideas and crowd-sourcing to run their projects.
The traditional startup investment scheme is exclusive for investment and limited for the startup. The blockchain is lowering entrance barriers for investors and aligning interests among founders, investors and users through token generating events.
Come learn the core basics of startup investment and see some of the leading players in the space discuss how crowd sales have overtaken venture capital as the main financial driver of innovation for Blockchain projects.
Our tour will include the following startups :
Neoplace.io
NeoPlace is the protocol for Marketplaces on the Blockchain. Interacting with IPFS and Ethereum blockchain, NeoPlace introduces the Proof of State concept where each phase of the transaction is tracked through Smart Contract. NeoPlace is the opportunity for crypto holders to spend their assets on goods and services in the real economy. Secure transactions, low cost and decentralized, NeoPlace disrupts the global e-commerce market.
http://neoplace.io/
EthicHub.com
EthicHub is a platform that unilaterally grants access to international financial markets specifically to those who are currently excluded. It connects prospective investors to a wide variety of projects such as small-scale agricultural producers. This lending structure allows for lenders to gain access to a plethora of low-risk projects while significantly reducing costs for borrowers through Ethereum transferable assets.
https://ethichub.com/
Bundle.network
Bundle Network is an online platform connected to various exchanges, enabling users to purchase and sell multiple digital-assets within seconds of execution through one account and one click, at the best price possible either in bundles, or individually. It will also serve as an online meeting point for digital assets investors to share and discuss topics related to trading.
http://bundle.network/
Mobilum.com
Mobilum's unique system converts almost instantly your crypto into fiat and charge your own credit or debit card. It will works on any card system. The Mobilum Platform is a multi-asset, low-latency, high-frequency, MiFID compliant matching engine allowing best execution of different asset classes in real-time.
http://mobilum.com/
StartupToken is a worldwide network of accelerators. We accelerate blockchain startup from the idea to the ICO. We organize Roadshows events and provide a wide range of services to projects that are innovative or of social importance.
http://startuptoken.com/
If you want to be accelerated apply here: https://startuptoken.com/application-form/
Join our Telegram: www.t.me/startuptoken
and follow us on twitter: https://twitter.com/startuptoken«